Books for Clinicians
Here are some treatment manuals that you might find useful if you have a patient who is presenting with BDD symptoms
Treatment Guidelines (NICE)
The UK has produced best practice guidelines for treating BDD.
Find out more how to best support a patient with BDD >
Treatment Manuals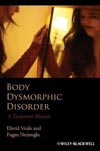 David Veale, Fugen Neziroglu Wiley: Chichester
Declaration of Interest: David Veale is a trustee of the BDD Foundation.
---

Wilhelm S, Phillips KA, Steketee G.
Presenting an effective treatment approach specifically tailored to the unique challenges of body dysmorphic disorder (BDD), this book is grounded in state-of-the-art research. The authors are experts on BDD and related conditions. They describe ways to engage patients who believe they have defects or flaws in their appearance. Provided are clear-cut strategies for helping patients overcome the self-defeating thoughts, impairments in functioning, and sometimes dangerous ritualistic behaviors that characterize BDD. Clinician-friendly features include step-by-step instructions for conducting each session and more than 50 reproducible handouts and forms; the large-size format facilitates photocopying.
See also the related self-help guide by Dr. Wilhelm, Feeling Good about the Way You Look, an ideal recommendation for clients with BDD or less severe body image problems.
---

Katharine Phillips
This landmark book is the first comprehensive edited volume on body dysmorphic disorder (BDD), a common and severe disorder. People with BDD are preoccupied with distressing or impairing preoccupations with non-existent or slight defects in their physical appearance. People with BDD think that they look ugly ― even monstrous ― although they look normal to others. BDD often derails sufferers' lives and can lead to suicide.
BDD has been described around the world since the 1800s but was virtually unknown and unstudied until only several decades ago. Since then, research on BDD has dramatically increased understanding of this often-debilitating condition. Only recently, BDD was considered untreatable, but today, most sufferers can be successfully treated.
This is the only book that provides comprehensive, in-depth, up-to-date information on BDD's clinical features, history, classification, epidemiology, morbidity, features in special populations, diagnosis and assessment, etiology and pathophysiology, treatment, and relationship to other disorders. Numerous chapters focus on cosmetic treatment, because it is frequently received but usually ineffective for BDD, which can lead to legal action and even violence toward treating clinicians. The book includes numerous clinical cases, which illustrate BDD's clinical features, its often-profound consequences, and recommended treatment approaches.
This volume's contributors are the leading researchers and clinicians in this rapidly expanding field. Editor Katharine A. Phillips, head of the DSM-V committee on BDD, has done pioneering research on many aspects of this disorder, including its treatment.
This book will be of interest to all clinicians who provide mental health treatment and to researchers in BDD, anxiety disorders, eating disorders, and other obsessive-compulsive and related disorders. It will be indispensable to surgeons, dermatologists, and other clinicians who provide cosmetic treatment. Students and trainees with an interest in psychology and mental health will also be interested in this book.
This book fills a major gap in the literature by providing clinicians and researchers with cutting-edge, indispensable information on all aspects of BDD and its treatment.
Donate today to support our work
Together, we can relieve suffering for people with BDD, while advancing research, treatments and awareness of the condition.
Donate