The Hurt to Healing podcast with Pandora Morris has interviewed our ambassador Charlie King on his experiences of BDD. Pandora goes on to interview our trustee Dr Amita Jassi on her expert knowledge of the condition.
Pandora launched the Hurt to Healing podcast earlier this year. She opens about about the 'uphill battle' she has with her mental health for years. She has now begun 'to see some glimmers of light'. As part of her own recovery, she has made it her 'mission to support as many of you as possible on your own healing journey'. In this podcast she speaks to wonderful people from all walks of life who have opened up about their own invisible struggles in the hope that it will provide a bit of solace and comfort for some of you. She speaks to leading experts and doctors about different disorders and therapies that might help expand your knowledge on the world of mental health.
Please follow @hurttohealingpod
In her latest episodes she has focused on Body Dysmorphic Disorder by interviewing our lovely ambassador Charlie King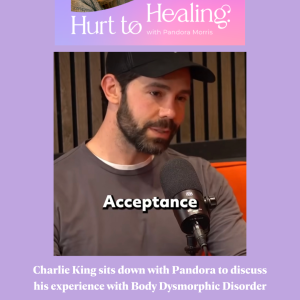 Since leaving the reality show, The Only Way Is Essex in 2015, Charlie has struggled with both depression and body dysmorphic disorder. The pandemic was a challenging time for all of us. And Charlie admits that psychologically he was not in a good place, which led him to get surgery on his nose. Charlie now uses his platform to call for mental health awareness on this issue, and I'm so glad to be able to get the chance to talk to him about it today.
Listen to the podcast by following this link
Pandora follows up with some expert knowledge on BDD from our trustee
Dr Amita Jassi.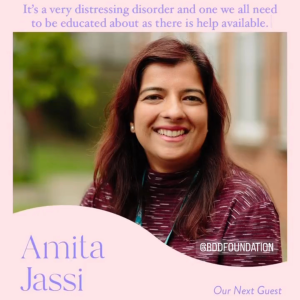 Dr Jassi is a consultant, clinical psychologist at the National and Specialist OCD, BDD and Related Disorder Service for Children and Young People. Body dysmorphic disorder affects about one in 50 people. We discuss why it's such a debilitating condition, why there is a lack of insight into it and I ask her about what treatment and therapies are available.
Listen to the podcast by following this link
More stories from the community