Monki launches underwear capsule collection in collaboration with Body Dysmorphic Disorder Foundation
More Than My Reflection
This March coinciding with International Women's Day, Monki joins forces once again with Body Dysmorphic Disorder Foundation (BDDF) to further raise awareness around Body Dysmorphic Disorder (BDD).
In collaboration with the BDDF, Monki is launching a limited-edition underwear collection featuring positive affirmation messages, serving as a reminder to the wearer that they are unique, and that they are more than their reflection and what they see on the outside. The capsule includes two mesh bras and briefs. One set features positive affirmations on the inside of the underwear for the wearer to read, but also reflected the correct way when looking at the mirror, for an instant confidence boost. An encouraging self-love reminder. The second set features various body illustrations, one of the brand's signature prints.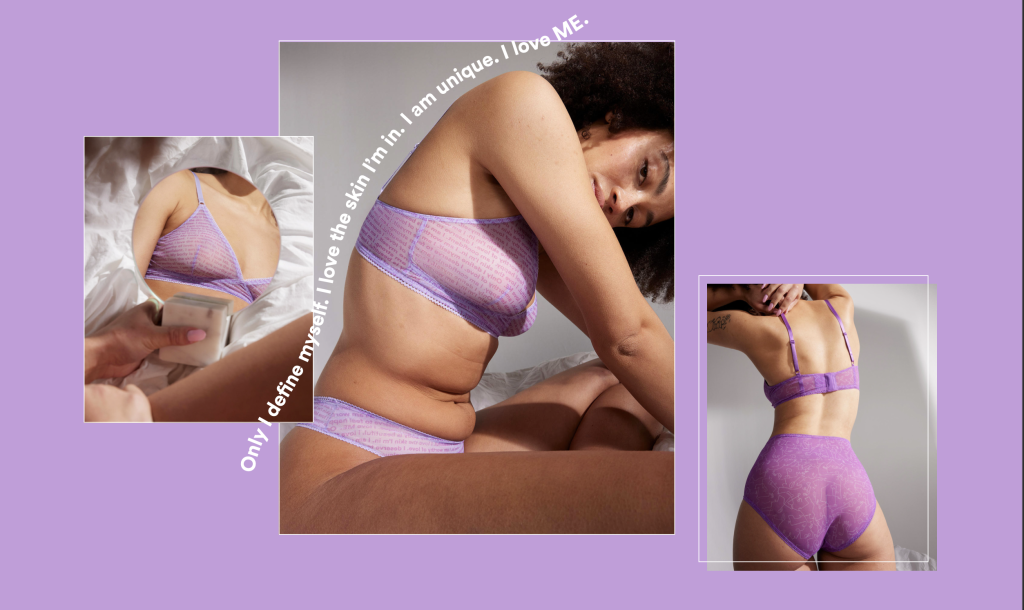 As part of the ongoing partnership between Monki and BDDF, a donation has been made to support BDDF's work and expand on educational resources.
"The purpose of the campaign is to raise awareness of the disorder and how it affects a person's psyche, wellbeing and self-confidence. As a brand which creates fashion for girls and young women, we have a responsibility to our community to be as inclusive and transparent as possible when it comes to body and beauty representation. Diverse casting and transparent retouch guidelines are two of the areas we have worked with since day one. That's why this ongoing collaboration with BDDF is important to us — we strive to empower women to feel good about themselves without aspiring to unattainable norms," says Simone Van Starkenburg, Brand & Marketing Director at Monki.
Monki has showcased a series of personal portraits from three media volunteers who have suffered from BDD and have used their experiences to educate and inform the public about this under-diagnosed and distressing disorder.
They describe how it started, how it manifested, their lowest point, and how they have gotten to the other side. They also share advice on how to support someone potentially going through this or to someone who knows a person that is suffering from this disorder. The purpose is to enlighten, inform, educate on the disorder, encourage to seek help, and to never give up.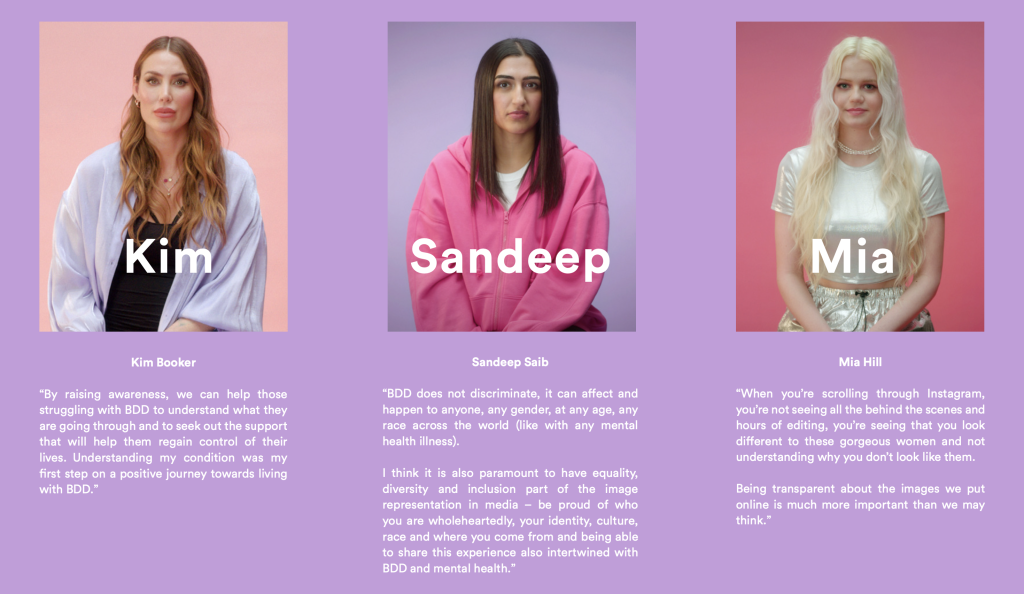 As part of the campaign, Monki put up posters and distorted mirrors across the UK, including London, Manchester and Birmingham. It's wonderful to see the BDD Foundation, and most importantly BDD as a condition being recognised and amplified. You can find many more of the shared images on our Instagram, we have loved seeing them!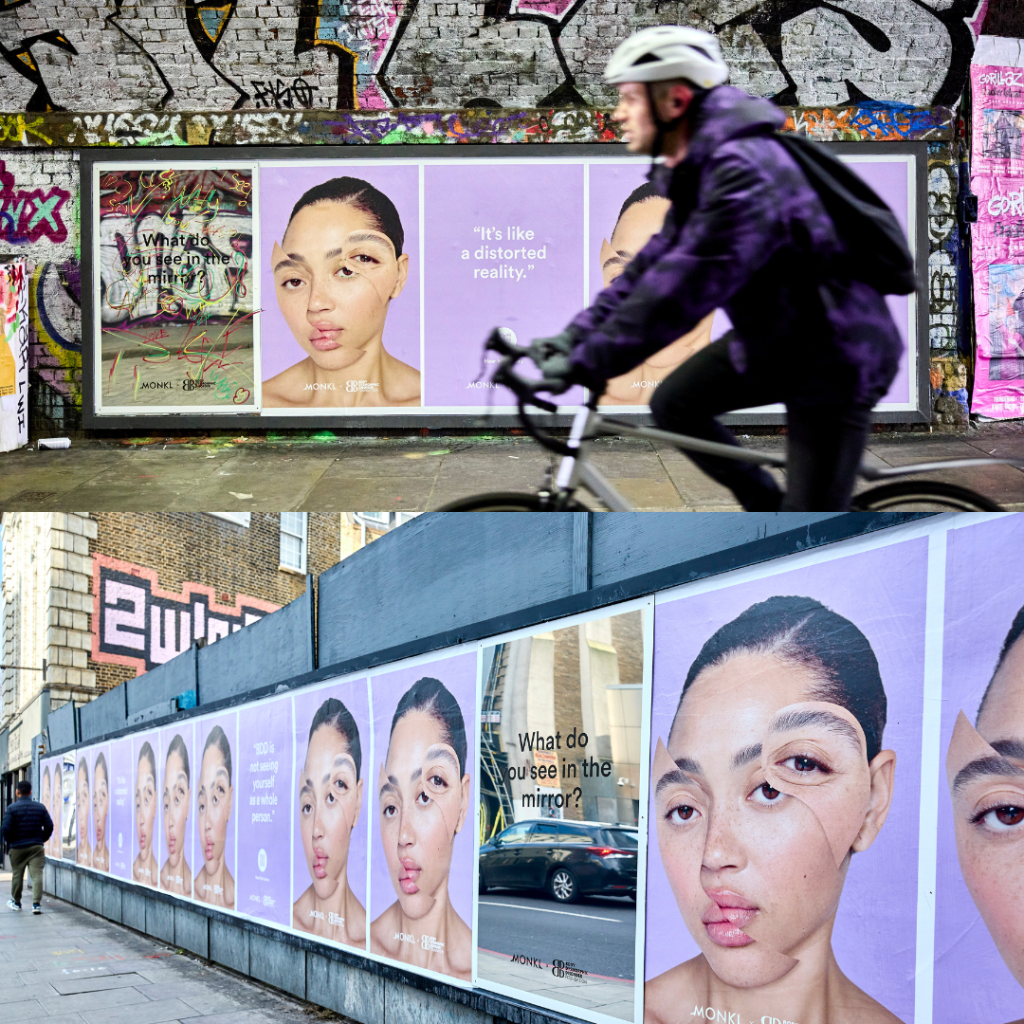 In November 2021, BDDF, supported by Monki, started a petition directed at the EU Parliament calling for transparency on altered images on social media. This pushed for changes to ensure that organisations, companies, and influencers are legally required to state when images have been manipulated for paid content online. This tapped into an already important and ongoing movement where we in recent years have seen changes in law changes to legislation in Norway and France. Since the petition's launch, we have managed to accumulate over 40,000 signatures — but it doesn't stop there. So far, the petition has been a catalyst in pushing for a similar UK legislative change, which is why it is still important to support us by signing the petition.
Why has the BDD Foundation decided to collaborate with Monki?
We see Monki as an ideal fit for a collaboration with the BDD Foundation. As a brand, they have long-standing ethical policies around their marketing. They strive to challenge beauty norms in their casting from ethnicity to body shape and size and have championed a pioneering #NoFilter campaign. They do not airbrush out features such as stretch marks, body hair, birthmarks etc. Their body positive attitude, inclusivity and continued dedication to the cause signifies that Monki is a brand that genuinely cares about the wellbeing of their community and the BDD Foundation is proud to partner with them.
More stories from the community