Tickets for the Virtual Conference on Saturday 26th June 2021 are now on sale!
The BDD Foundation and OCD Action have joined forces to bring our wide-reaching community together for a day of education, inspiration and connection.
We know that as a community, we have been one of the hardest hit by the restrictions, fear and isolation of the past year, and that as we start to emerge from lockdown, new challenges will emerge too.
We believe that being part of a supportive community and connecting with one another will be at the core of our journey as we move forward together, and since this event is happening online, we can truly make this invitation global.
On our main stage, BDD room and OCD room we'll be hosting a range of world-renowned experts who will explore the latest breakthroughs in research, clinical practice, and emerging treatments. Meanwhile our breakout rooms will include a jam-packed schedule of workshops, performances and opportunities to connect.
And you can experience all of this and more without even having to leave your home.
So join us as we give our community a platform to gather together and focus on the strength and resilience of people who have lived experience of OCD, BDD and BFRBs.
---
Who will be speaking?
VIEW OUR FULL SCHEDULE FOR THE DAY
Whether you want to hear about innovative treatments and research from leading international speakers, learn how to advocate for yourself and others responsibly, or simply want to meet new people and reconnect with old friends, there's something for everyone!
We are delighted to announce our speakers: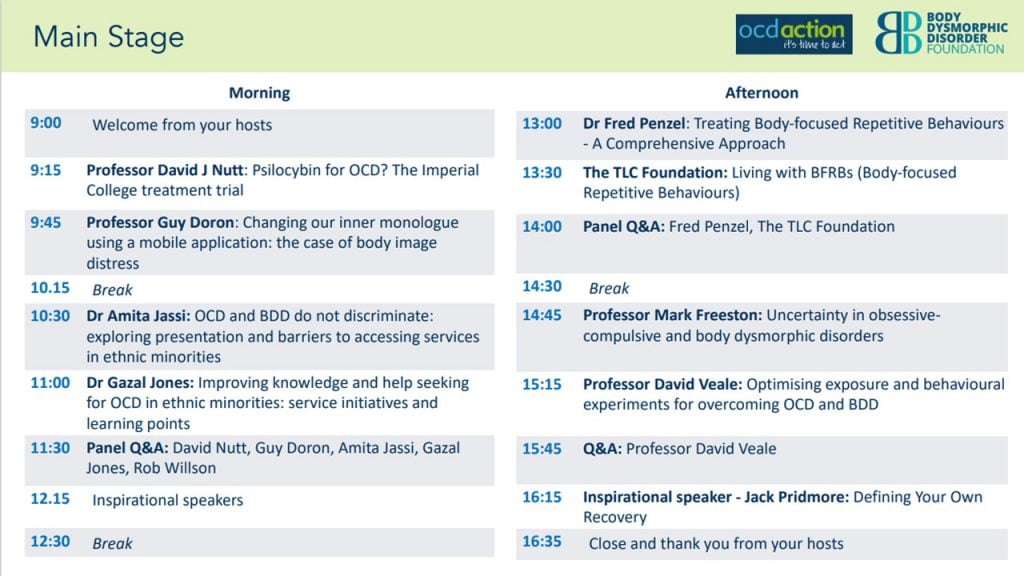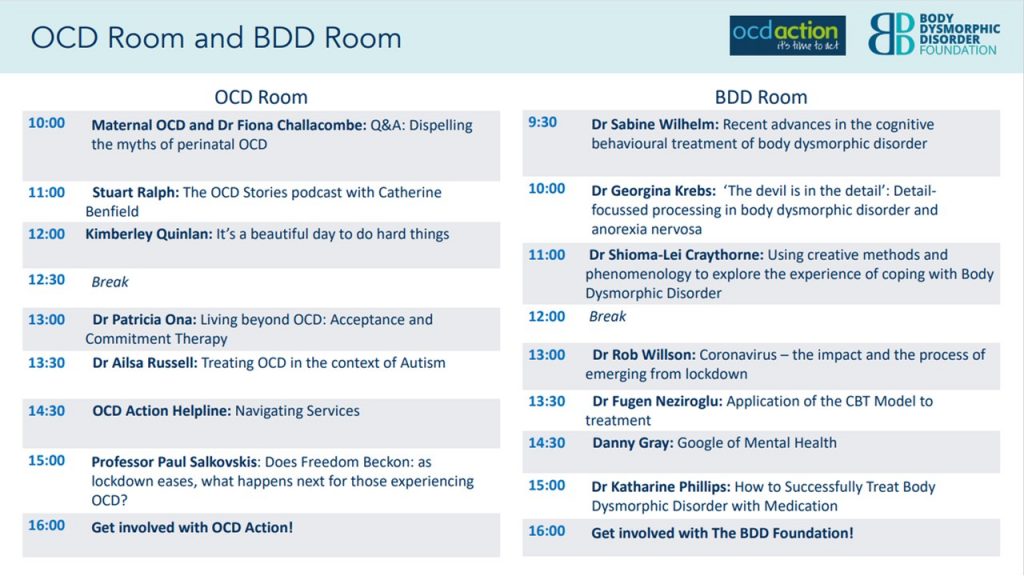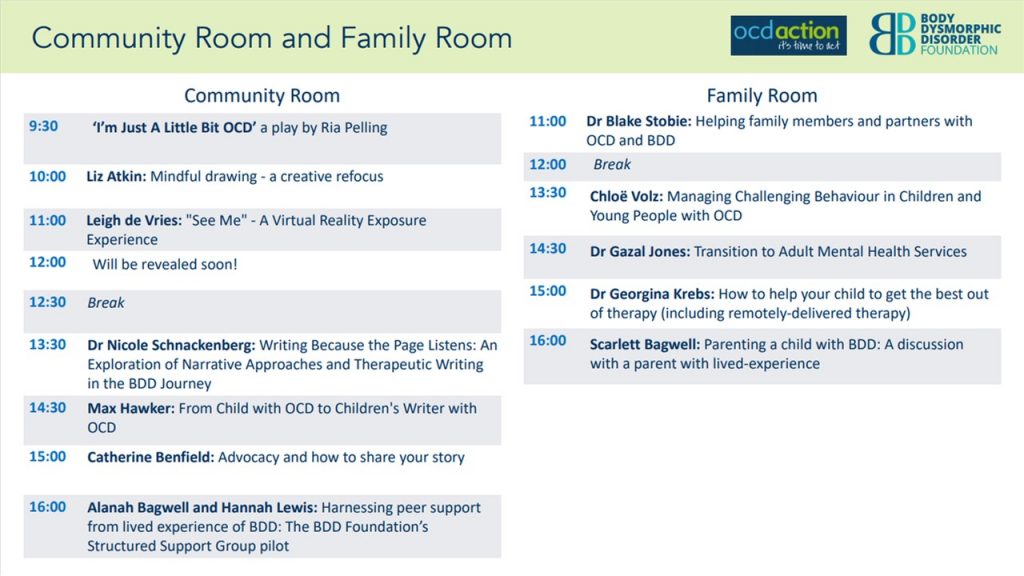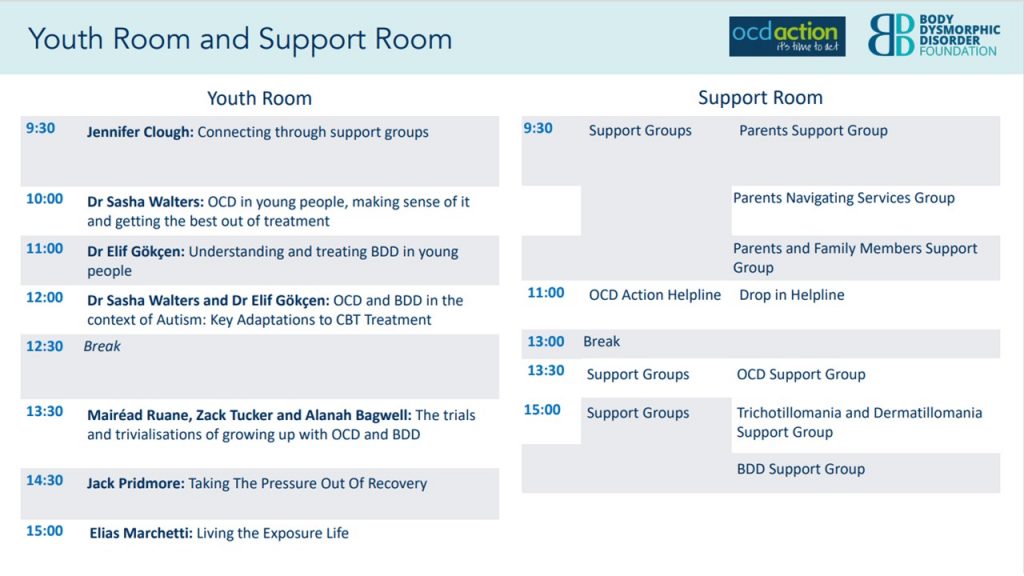 ---
Youth Room
We have created a Youth Room, specifically for 14 – 18 year olds. Speaking in our Youth Room are:
Jennifer Clough, an OCD Action Youth Group Facilitator with lived experience of OCD.
Dr Sasha Walters, a Senior Clinical Psychologist currently working part time in the South London and Maudsley National and Specialist CAMHS OCD, BDD & Related Disorders Team. Dr Sasha will be presenting on OCD in young people, making sense of it and getting the best out of treatment. She will then present with Dr Elif Gökçen on OCD and BDD in the context of Autism, and key adaptions to CBT treatment.
Dr Elif Gökçen, a Clinical Psychologist at the National and Specialist OCD, BDD and Related Disorder Clinic at the Maudsley Hospital. Dr Elif will be presenting on Understanding and Treating BDD in young people, followed by a joint presentation with Dr Sasha Walters on OCD and BDD in the context of Autism, and key adaptions to CBT treatment.
Alanah Bagwell, Mairéad Ruane and Zack Tucker, three young people with lived experience of OCD and BDD, discussing the difficulties of growing up with the conditions.
Jack Pridmore, an author, business consultant and CEO of The Accessful Foundation, a UK disability charity. Jack has lived experience of OCD from a young age and he wants to help you to take the pressure out of recovery!
Elias Marchetti, a 21 year old student with lived experience of OCD and BDD. Elias will be talking about how CBT changed his life.
Tickets for the Youth Room are £3. You will need to obtain parental / guardian consent before purchasing a ticket for the Youth Room. Please download a consent form here and email it to conference@ocdaction.org.uk.
Once we have received your form, we will send you instructions to buy your tickets.
---
What will the virtual conference look like?
We want the conference to capture the feeling of a physical event as much as possible, so we've created several virtual rooms for different types of sessions. We have a main stream for our keynote speakers, and then break-out channels for an BDD room, a OCD room, a family room, a support room, a community room and a youth room. Seamlessly switch between them as you like, and experience all each space has to offer without even having to leave your home!
---
Bursary Fund people on low incomes
We want to share our conference with as many people affected by OCD, BDD and BFRBs as possible. To help people who could find the cost of a ticket prohibiting, we have put together a bursary fund with Maternal OCD for 40 free tickets.
We are allocating these tickets on a first come, first serve basis.
Download our simple application form here and send it back to us by email to conference@ocdaction.org.uk by 23:59 on Friday the 18th June.
If you have any questions about the bursary fund or application process, please do not hesitate to get in touch with us at conference@ocdaction.org.uk or by calling OCD Action's London office on 020 7253 5272.
More stories from the community